Guide to Commuting from Port Ludlow
Port Ludlow may be a small, rural community, allowing residents to truly immerse themselves in a higher quality of life surrounded by the beauty of nature, but doesn't mean there is a lack of transportation options. Yes, there is that body of water known as the Puget Sound that tends to get in the way, separating the Olympic Peninsula from the Greater Seattle area, but there are still multiple ways to get there from here.
Take time to visualize where Port Ludlow is in relation to Seattle. A quick Google Maps search will reveal a number of different routes, some of which involve taking the ferry, and another option for driving around.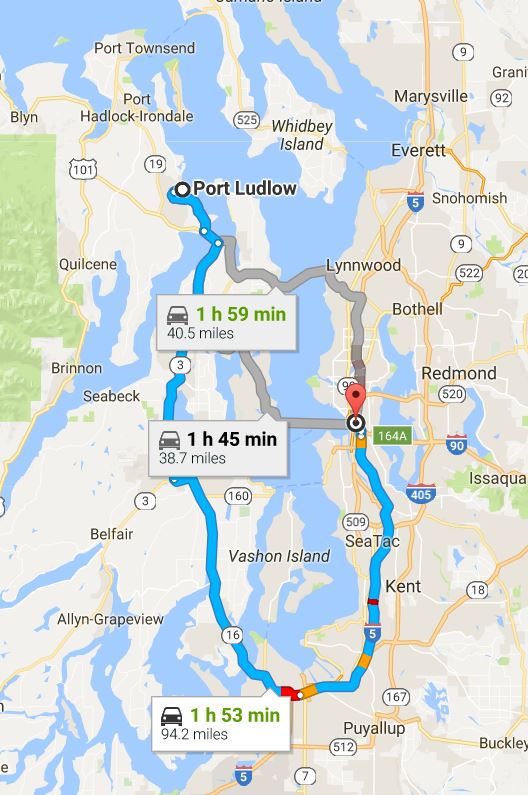 Many Olympic Peninsula residents who live in Jefferson and Kitsap Counties commute to work in Seattle, and prefer the trip via ferry, where they can read the newspaper, work on their laptop or sip coffee and enjoy the scenery during the ride, rather than being stuck somewhere on the interstate moving at a crawl. They beat the commuter traffic, leave the highway stress behind, and hop on the ferry for a relaxing trip to work. There are four routes that stretch across the Puget Sound, linking Peninsula communities to Seattle for what has to be one of the most scenic commutes around, with the most common for Port Ludlow residents being either the Bainbridge Island to Seattle ferry, or the Kingston to Edmonds ferry.
Of course, most people don't move to Port Ludlow with the plan of commuting to work in Seattle everyday either. More than a few, however, are in "semi-retirement," holding part time jobs or have other reasons to make frequent trips to the city, while the rest of us occasionally want to head east to catch a Mariners' or Seahawks' game, take a flight out of Seatac Airport, visit with friends, or get there for many other reasons.
So what's the best way to get from point A to point B?
Well, there is no one "best" way, but you do have lots of choices. And, with transportation options continually expanding in the area, you can look forward to even more in the very near future, with an increasing number of people seeking to improve their quality of life by making a move to Port Ludlow and the surrounding area.
We'll take an in-depth look at all of the options to help you make sense of it all.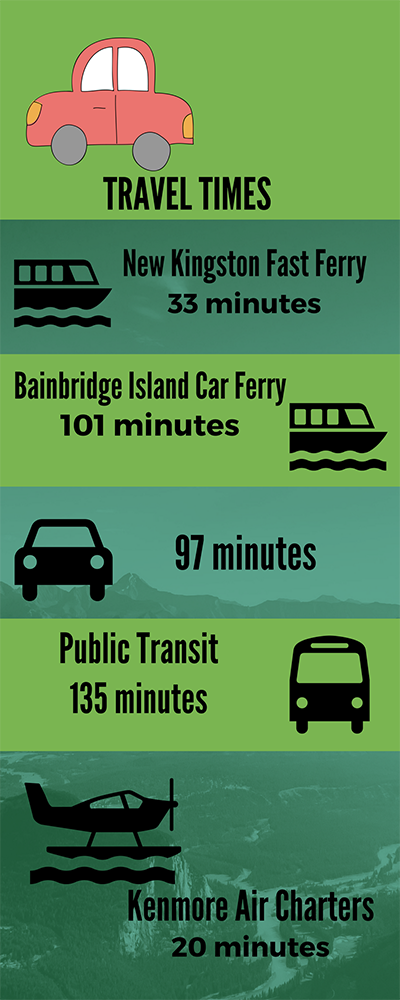 The New Fast Ferry in Kingston
One of the most exciting transportation options coming to the Olympic Peninsula soon, is the Kitsap Fast Ferry from Kingston to Seattle. Kitsap Transit moved forward with its plans to launch this service following voter approval of Proposition 1, which also includes fast ferries from Bremerton as well as Southworth. Getting from Kingston to Seattle today takes an average of 80 minutes, but with the new fast ferry, that time will be cut dramatically – to 33 minutes.
While this will be a passenger-only service, it will be not only be ideal for those who need to reach downtown Seattle, but to other points throughout the region as well, as it's easy to connect to both bus and rail service from the Seattle ferry dock. According to KitsapFerries.com, from May through September, the ferries will operate with all-day, bidirectional service from all three terminals, including Kingston: 5 a.m. to 9 p.m. Monday through Thursday, 5 a.m. to 11 p.m. on Fridays, and 9 a.m. to 11 p.m. on Saturdays. Between October and April, the service will be available only during weekday peak periods.
The full, round-trip fare will be $12 ($2 collected in Kingston and $10 in Seattle). Seniors, youth, disabled and low-income riders pay half that, and bus riders that board the ferry will be credited for their bus fare.
Kitsap Transit will manage the fast-ferry system, setting service schedules and fares locally based on the needs of area residents.
Kingston – Seattle service is expected to launch in July 2018, while Bremerton launches in July 2017, and Southworth in 2020.
The new system will have a number of positive impacts on Kitsap County and Jefferson County residents, including providing better access to jobs, medical services, education, sporting events, shopping and entertainment. When the fleet is fully operating, area communities are also likely to benefit from addition sales and tax revenue from tourism.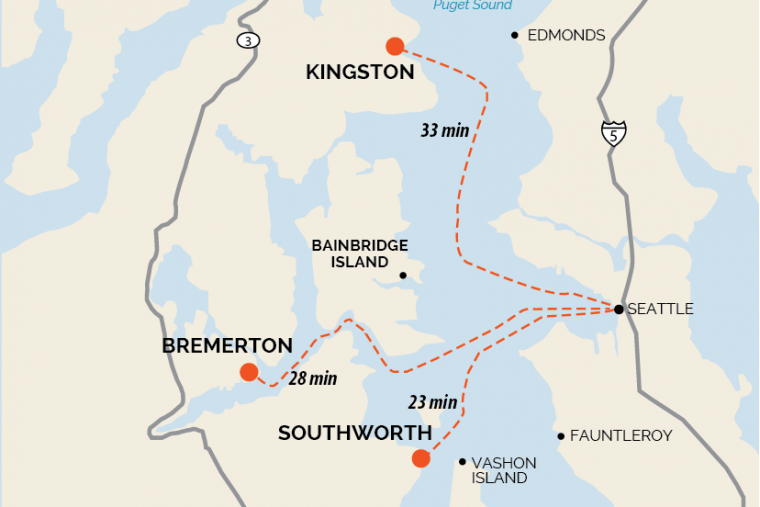 Driving
Most people drive their own vehicles to get to and from Port Ludlow. There are multiple routes that can be taken, utilizing the ferry, or driving around via the Tacoma Narrows Bridge (be aware there is a one-way toll, currently $5 per vehicle). Depending on the season, the day of the week and the time of the day, either may be quicker. It's a 94-mile drive from Port Ludlow to Seattle, traveling south to Gig Harbor, across the Tacoma Narrows Bridge, and then driving north on Interstate 5 to Seattle. Typically, that drive takes anywhere from an hour and 40 minutes to about two hours.
Bainbridge Island/Seattle Ferry
Another option is to drive to the Bainbridge Island Ferry Terminal (about 45 minutes from Port Ludlow), and drive onto the ferry, which will bring you directly to downtown Seattle in 35 minutes. The downside is that you may have to plan for a wait – in the summer, and on holiday weekends, that wait can get long, which is why driving around makes more sense in some cases. If you don't need your vehicle in Seattle, you can park in the terminal parking lot and walk on to avoid a long wait.
There are numerous options for transportation from the Seattle Ferry Terminal, including walking, biking, taxis and Uber or Lyft rides. Amtrak can easily be accessed as well. If you need to go beyond Downtown, the Link Light Rail connects Downtown Seattle with SeaTac International Airport, the stadiums, Rainier Valley, Capitol Hill and the University of Washington. The Sounder Commuter Rail services the direct metro communities of Seattle, including Edmonds, Puyallup, Kent and many others.
Taking Link Light Rail from Downtown Seattle to the airport is extremely convenient, and you won't have to worry about being delayed in traffic. There are 12 stops between downtown and SeaTac, and the trains run every 6 to 15 minutes, depending on the time of day, so there's no need to consult a time table. The airport is the end of the line. When leaving the airport, you'll find the SeaTac Airport Light Rail Station connected to the fourth floor of the main parking garage. A covered pedestrian walkway leads from the passenger terminal and sky bridges to the light rail station. From, there, you can get on any train that's departing, as they all travel to Seattle. The journey, in either direction, takes about 40 minutes.
Link Light Rail Service is available from 5 a.m. to 1 a.m. Monday through Saturday and from 6 a.m. to midnight on Sunday and holidays.
Kingston/Edmonds Ferry
Washington State Ferries currently runs a route between Kingston and Edmonds. You can drive, walk or bike onto this ferry, which may be a better option for those who need to get to points north of Seattle. The crossing time is 30 minutes.
If you want to walk or bike onto the ferry, there are public transportation options that can be accessed in Edmonds, including the Sounder commuter train, which runs on the Burlington Northern Railroad tracks near the waterfront. There are four trains from Edmonds to Seattle every weekday morning, and four trains from Seattle to Edmonds each evening.
Sound Transit service is offered from Edmonds as well, and can bring you to Bothell, Kenmore, Lake Union and other points throughout the Greater Seattle Area.
The Bus
Jefferson Transit. Jefferson Transit offers even more options for Port Ludlow residents who need to get to Seattle. It's also the source for bus service throughout the county, allowing you to easily to get Port Townsend, Sequim or Port Angeles, as well as Poulsbo, Silverdale, or Bremerton.
The total time from Port Ludlow to Seattle via this route is an average of 2 hours and 15 minutes. Follow these steps:
Take the No. 7 route from Oak Bay Road/Walker Way (access schedules here) to Poulsbo.
Arrive at the North Viking Transit Center, and take the No. 90, Bainbridge bus to the Bainbridge Ferry Terminal.
Take the Bainbridge Ferry to Downtown Seattle.
Olympic Bus Lines. The Dungeness Line, operated by Olympic Bus Lines, provides two trips each day. Pickups are in Port Townsend, Discovery Bay, Kingston (eastbound only) and Edmonds (westbound only) to SeaTac International Airport, Seattle Amtrak, Seattle area hospitals and Seattle Greyhound. Advance reservations are strongly advised. The service is a step above traditional bus service, and includes locally-made cookies, bottled water, free Wi-Fi and the ferry ride between Kingston and Edmonds.
Shuttle Service
Rocket Transportation offers door-to-door airport shuttle service to and from Jefferson County to SeaTac International Airport. Service to area hospitals in Seattle, Tacoma, Bremerton and Silverdale is also offered. While it isn't the cheapest option, it's typically very convenient. As not as many ride from Port Ludlow, the cost can be higher, but that can be cut significantly by requesting a pickup at the Port Hadlock QFC.
Kenmore Air
Kenmore Air offers private charters that can get to you Seattle in as little as 20 minutes. While it's a custom charter, if you can gather up a few people to go with you, the cost is relatively reasonable, and it's a fun way to get there too. The float planes come right into Port Ludlow Marina, picking up and dropping off passengers from the fuel dock. This is the most flexible option, as you'll determine exactly when you'll leave, and where the flight will go. In addition to Seattle, you can travel via Kenmore Air to just about any other spot throughout the Pacific Northwest, provided there is a modest airport or stretch of water available as a charter destination.